A charming straight pipe with a matte natural oak finish and a classic "billard" shape which offers a good grip. Its chrome & briar accent offers a bold transition between the shank and the acrylic stem. Besides, its matte and brown stain lets show the grain patterns of the briar.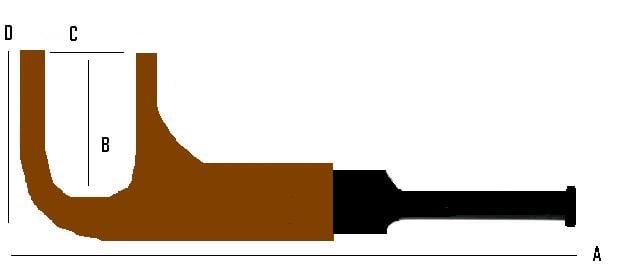 A = 141.5 mm.
B = 41 mm.
C = 20.5 mm.
D = 49 mm.
weight 53 gram
Finish: smooth & matte brown
– Dimensions: 141.5mm (L) x 39 mm (w) x 49mm (h)
– Chamber diameter: 20.5 mm
– Chamber depth: 41 mm
– Weight: 47 g
– Mouthpiece material: acrylic
– Filter: 9 mm filter pipe (with adapter and metal system)
Delivered in a Chacom cardboard gift box with a branded cotton bag.
Model : Nature